After the fluctuations in the price of bitcoin over the past month, the cryptocurrency took another hit yesterday, when it dropped with a 7-day low level of $5,113, according to Coindesk and Bitfinex.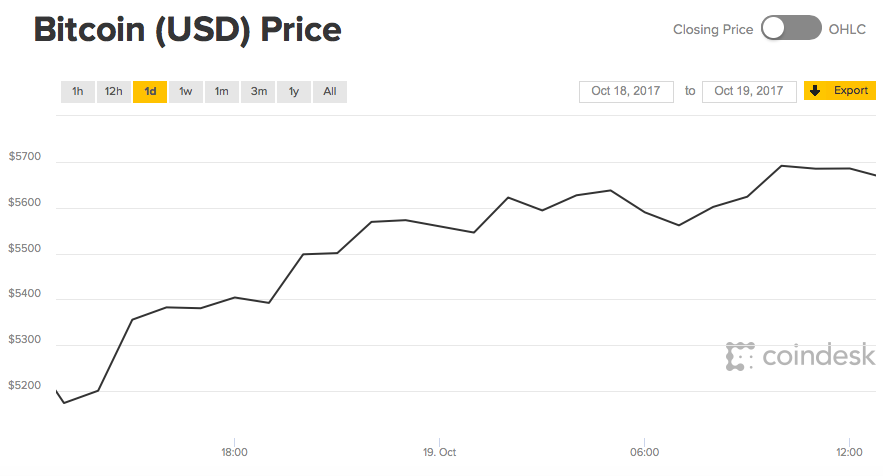 The "people's currency" managed to bounce back and is now trading at around $5,669 reaching up to $5,725, with an increase of almost $600.
In the last several days, the price of bitcoin has been hitting $5,800. Despite that, several corrections have taken place after the highs. Investors are now wondering whether the digital currency will continue to appreciate in value, since as of today, the overall appreciation of bitcoin is 729.39%, according to Coinbase. The Merkle reports that the daily trading volume of bitcoin remains around $2 billion, including both the buy and sell orders.
The price of Ethereum, which also saw a slight dip yesterday, is now back to $307, with a gain of 2.08% from yesterday. After Ethereum's hard fork on the 17th of October, the currency did not split up, signaling the stability and union of the Ethereum community. Investors were expecting a sharp boost in the price, which has not been seen yet in the past two days.
Another cyrptocurrency that is experiencing a tremendous growth is Litecoin, with annual growth of 1,354%, and current price of $60.1.
After heated debates and news of different countries entering and exiting the "digital currency" world, it is no doubt that the technology behind bitcoin, blockchain, found true supporters in the face of Goldman Sachs, Google and Citibank. Given the expected boom and decentralization of the market, investors are eagerly awaiting the all-time high of bitcoin, with rumors of bitcoin going up to $25k in the near future.
read more: https://www.leaprate.com/cryptocurrency/bitcoin/bitcoin-price-bounces-back-5700/