LeapRate has learned that Switzerland based Retail FX brokerage firm Dukascopy has seen a further decrease in business activity in the first half of 2017, following what was a fairly disappointing year in 2016.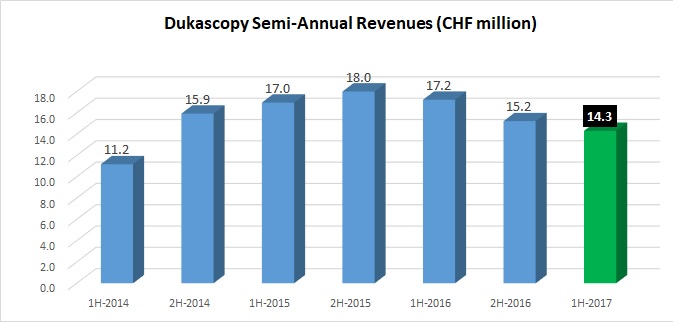 In the first six months of 2017, Dukascopy reported Revenues of CHF 14.3 million (USD $15 million) – 6% below the second half of 2016, and fully 17% below the corresponding first of the year last year.
As per above, we'd note that Dukascopy 2H-2016 revenues were already the lowest the company has reported since 2014, with FY2016 down 5%.
The decrease in Revenues hit the bottom line fairly hard, with Dukascopy reporting an Operating Loss of CHF 902,000, versus a profit of CHF 3.4 million last year 1H. For accounting purposes, the Operating Loss was mitigated by a CHF 1 million gain in changes in reserves for general banking risks.
On the positive side, Dukascopy did grow its client assets in the first half of the year to CHF 110.7 million, from CHF 103.4 million at the end of 2016.
Dukascopy's results stand in stark contrast to those of its Swiss rival Swissquote Group Holding SA (SWX:SQN). Swissquote reported very strong results for the first half of this year, and in particular from its Retail FX division. Swissquote's eFX business saw trading volumes average $82.3 billion monthly during January-June 2017, up 14% from the second half of 2016 – and Swissquote's strongest volumes showing since 2014. Revenue from Swissquote's Forex business hit CHF 32.6 million in 1H-2017, up 17% from last year, driven by a 32% increase in new clients and a sharp 77% rise in Forex client assets.
While Dukascopy did not give an explanation in the filing for what happened in the first half of the year, we assume that it was a continuation of the issues the company was dealing with late last year.
Dukascopy stated in its 2016 report that due to its focus on Dukascopy Japan's successful integration, geographical expansion projects were put on hold during 2016. Dukascopy Japan is still losing money (as of fiscal 2016), with the company stating that it is confident that the Japanese subsidiary will reach financial equilibrium in 2017.
Dukascopy also reported its 'regret that increased marketing budget did not pay off as expected during the year (2016)', with the lower results coming despite an increased marketing spend.
Dukascopy was founded in 2004 by husband and wife team Andrey and Veronika Duka, who continue to own 99% of the company. The pair also act as co-CEOs of the company, after the departure of longtime CEO Alain Broyon in 2014.
read more: https://www.leaprate.com/forex/brokers/dukascopy-decrease-revenues-1h-2017-operating-loss-fx/