Continuing a fairly weak month for volumes we have been seeing from leading retail and institutional eFX industry trading venues, CySEC and FCA regulated broker Exness has reported that forex volumes in its system dropped 25% in April, coming in at $234.6 billion.
While that marks the slowest month for forex trading at Exness in 2017 – following record FX volumes seen during March at $313.7 billion – in greater context the volumes figure for April was better than every month in 2016 at Exness except July.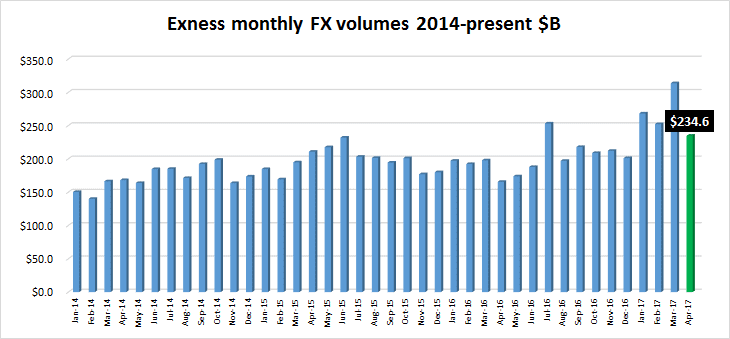 Exness saw 44,466 active traders in April, down from a March's record of 46,112.
Overall for Q1, Exness honoured $99.4 million in client withdrawals, and paid out $13.3 million in payments to partners, mainly introducing brokers. We'd note that Exness has its volume, client withdrawal and partner rewards figures audited on a quarterly basis by global accounting firm Deloitte.
In the fall, CySEC regulated Exness announced plans to expand in Europe and in the institutional eFX space, backed by a new UK subsidiary and FCA license.
read more: https://www.leaprate.com/forex/brokers/exness-reports-april-forex-volumes-25-mom-235-billion/