Even for the largest global retail forex brokers, breaking into the coveted UK online trading market isn't easy.
LeapRate has learned via regulatory filings that GMO-Z.com Trade UK Limited, the FCA regulated brokerage arm of Japanese retail forex giant GMO Click Holdings Inc (TYO:7177), posted a £1.8 million (USD $2.3 million) net loss for Fiscal 2017, its second full year of operation. The company has a March 31 fiscal year end.
Tokyo-based GMO Click is, by volume, the world's largest retail forex broker doing more than $1 trillion in OTC spot forex volumes per month, mainly in Japan. By comparison, the largest 'Western' retail FX brokers do in the $200-400 billion range such as Saxo Bank, Gain Capital's Forex.com, and Exness.
GMO Click paid $6.8 million to purchase the z.com domain name in 2014, rebranding its global retail forex operation to the rare one-letter domain while launching an FCA-regulated London-based operation at around the time.
Z.com UK, which operates under the Z.com Trade brand and offers the MT4 platform, reported just £406,542 of Revenues in 2017, after launching in the UK in March 2015. The company, which averaged 9 employees during the year (actually down from 12 last year), paid out £424,000 in salaries. The company lost its only British director during the year, with Liam Bonfield leaving to become CFO of Valutrades.
GMO Click started off its Z.com Trade UK arm with £4 million in capital in 2013, and put in another £5 million in 2015. To date the company has accumulated £6.0 million in losses including the £1.8 million noted above in 2017, leaving it with a fairly healthy £3.0 million capital cushion. No new capital was put in during 2017.
We should note that as with similar subsidiary reports of global forex brokers, the financials don't always tell the whole story. Z.com Trade UK matches all its trades back-to-back with its parent company in Japan, such that the 'real' profit and loss is recorded there. However we can still get a fairly good indication from the Z.com Trade UK books as to the general direction of the company, and its overall health. And, it looks like the company did not do much business in its second full year of operation in the UK.
Z.com Trade's 2017 income statement reads as follows: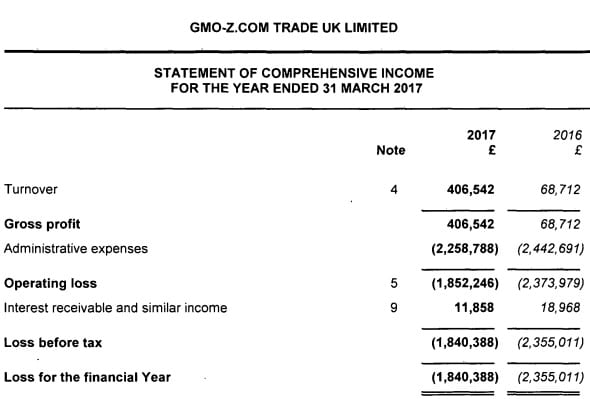 read more: https://www.leaprate.com/forex/brokers/gmo-click-uk-retail-fx-unit-z-com-trade-loss-fiscal-2017/